The timing of the data.ai report on app downloads in Q1 2023 is especially intriguing given the ongoing discussions about a TikTok ban in the US and possibly other regions. The most recent app performance report from data.ai was just made public, and it reveals that TikTok beat Instagram as the most downloaded app in Q1 2023.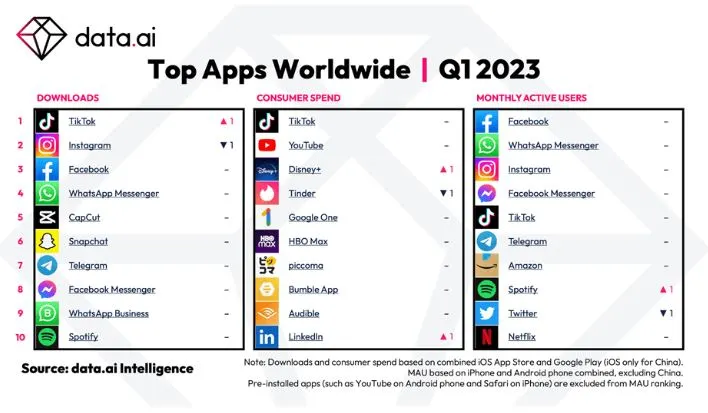 In the first three months of the year, TikTok led in both downloads and consumer spending. You'll also notice that the TikTok editing app CapCut is also growing, surpassing both Snapchat and Messenger in total downloads during that time. If you wanted to understand the breadth of the effects that a TikTok ban could have, this is it.
Also Read: 7 Common Mistakes to Avoid in Social Media Advertising
Which comes as little news. Many people now turn to TikTok as their primary source of entertainment, and as social sharing—posting one's own thoughts and updates—becomes less popular, entertainment has taken center stage on social media platforms. Users now spend hours each day scrolling through an endless stream of short video clips.
Due to restrictions on network connectivity and associated expenses, that wasn't feasible in the past. The majority of people can now watch video content on the go for comparatively little money, which has further changed the dynamic and made video the most popular form of media among users.
And as has been mentioned, fewer individuals are posting on social media than they used to.
This is supported by internal Meta data that The Wall Street Journal first reported on in January. This data revealed that while Meta usage increased in Q4 2022, creation and interaction decreased, with fewer people posting to Facebook and Instagram than in the past.
This is the transition from social to entertainment, and TikTok actually describes itself as "an entertainment app" rather than a social network.
The focus is on the best content from all users, rather than limiting your inputs to your smaller, more niche interests. While every other social network tries to catch up and boost its own engagement stats by offering more sticky, compulsive usage experiences, TikTok's algorithmic and content approaches stand out.